Benetl is a free ETL tool for files working with postgreSQL 16.x and MySQL 8.x
Version of Benetl, the free ETL tool, in download is version 5.7.0 (is out the 11/23/2023).
You should update. A version for
Linux
is available.
This release is a mature one, you can use in a production mode.
Please read about "part formula" and "interesting example" in documentation, in order to see possibilites that Benetl brings.
MySQL users, please read about "Benetl core configuration" in documentation.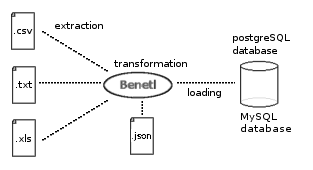 Benetl is a freeware you can freely download, use and redistribute.